Sars-Fang Centre特邀学术报告-美国堪萨斯州立大学博士后Kotaro Shimai
发布人:王青  发布时间:2021-12-16   动态浏览次数:
171
方宗熙-萨斯海洋分子生物学研究中心(Sars-Fang Centre)将邀请美国堪萨斯州立大学博士后Kotaro Shimai进行报告。报告详情: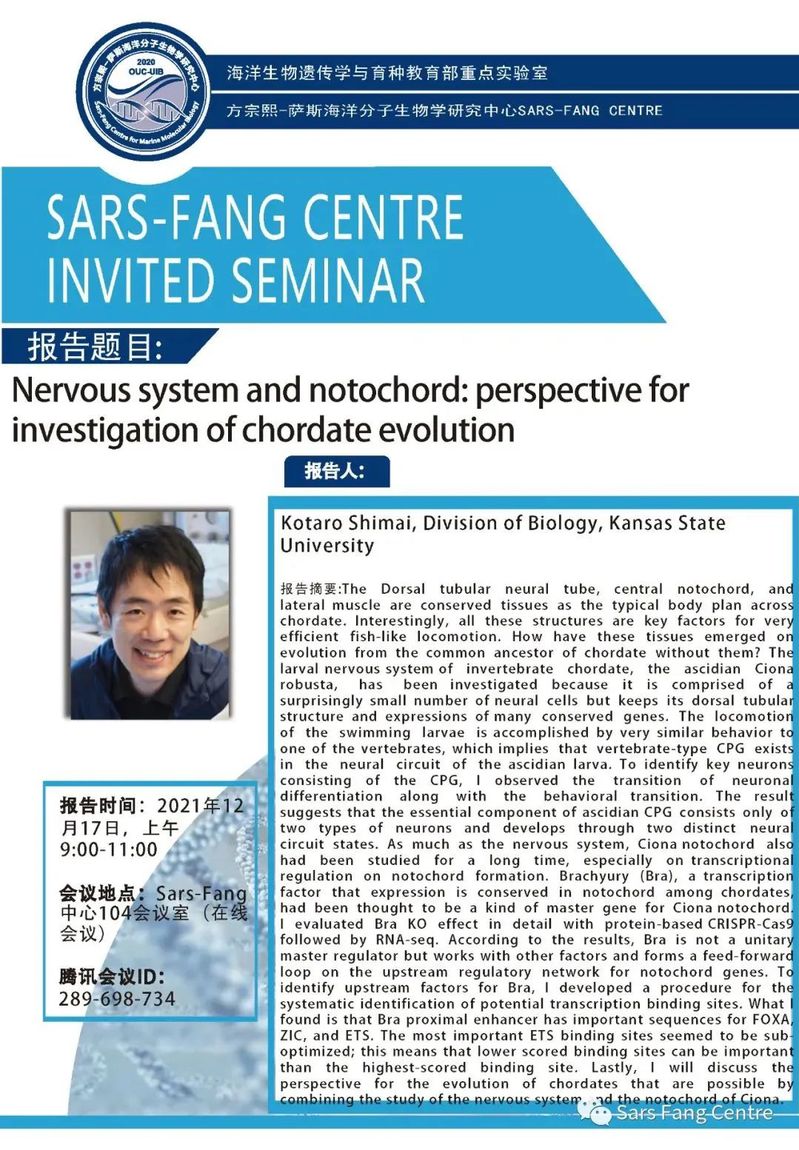 Kotaro Shimai博士简介:

2001到2005年Kotaro Shimai在 Konan University甲南大学分别获得发育生物学领域的学士、硕士和博士学位,2010到2018年在甲南大学进行发育生物学领域的博士后工作。2018年4月份开始,在美国堪萨斯州大学Kansas State University做博士后至今。代表性研究成果如下:
1. Reeves WM, Shimai K, Winkley KM, Veeman MT. Brachyury controls Ciona notochord fate as part of a feedforward network. Development. 2021 Jan 8:dev.195230. doi: 10.1242/dev.195230. (Reeves WM and Shimai K contributed equally to this work.)
2.Okawa N, Shimai K, Ohnishi K, Ohkura M, Nakai J, Horie T, Kuhara A, Kusakabe TG. Cellular identity and Ca2+ signaling activity of the non-reproductive GnRH system in the Ciona intestinalis type A (Ciona robusta) larva. Sci Rep. 2020 Oct 29;10(1):18590. doi: 10.1038/s41598-020-75344-7.
3. Shimai K, Kusakabe TG. The Use of cis-Regulatory DNAs as Molecular Tools. Adv Exp Med Biol. 2018;1029:49-68. doi: 10.1007/978-981-10-7545-2_6.
4.Hu H, Uesaka M, Guo S, Shimai K, Lu TM, Li F, Fujimoto S, Ishikawa M, Liu S, Sasagawa Y, Zhang G, Kuratani S, Yu JK, Kusakabe TG, Khaitovich P, Irie N & the EXPANDE Consortium (2017) Constrained vertebrate evolution by pleiotropic genes. Nat. Ecol. Evol., September 25, 2017, doi:10.1038/s41559-017-0318-0
5.Shimai K (2013) A role of Piwi in central nervous system of Ciona. Kaisho 23:3-6
6.Shimai K, Ishii H, Nishikata T (2009) Interaction between oocyte and accessory cells during ascidian oogenesis. Mem. Konan Univ., Sci. Eng. Ser. 56, 31–41.
7.Shimai K, Hirano A, Kitaura Y, Kitano Y, Itoh A, Kiuchi A, Sasaki N, Nishikata T (2008) Novel ubiquitous promoters and expression-vector optimization in ascidian embryos. Invertebr. Reprod. Dev. 51(2), 103–110.
8. Shimai K, Kitaura Y, Tamari Y, Nishikata T (2010) Upstream regulatory sequences required for specific gene expression in the ascidian neural tube. Zool. Sci. 27, 76–83.